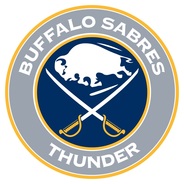 ---
Buffalo Sabres Thunder

The Buffalo Sabres Thunder team consists of 26 players for the 2015-2016 Season. The team plays in local scrimmage games with local high school and travel hockey teams. The team also plays out of town in tournaments against other special hockey programs in the United States and Canada, as well as hosting its own tournament at Harborcenter in Buffalo.

The team has fitness and dry-land training programs for player preparation for the upcoming hockey season.

The team consists of "A", "B" and "C" level players. The goal of the organization is to grow different level teams to compete with other special hockey teams and organizations with the same skill, abilities, and goals.


Coaches:

Mike Steffan – Level IV Coach

Gary Panek - Level IV Coach
Frank Cacciatore – Level III Coach

Ernie Lowerre - Level III Coach


Jack Panek - Level I Coach
Dave McGill - Level I Coach

Alex Woods - Level I Coach


Mentor Coaches:

John Rein
Robert Zwirecki
Ryan Ballow
Chris Cacciatore

Ralegh Petri
Zach Lowerre
Izzy Battaglia

Marcie Rodgers


Kylie Magill
Max Lowerre

Finley Stuhr


Team Members:

- D. Arenos
- P. Bailey
- S. Ballow
- D. Burden
- N. Cacciatore
- D. Caruana
- M. Craft
- C. Deuser
- M. DeRosa
- J. Gardner-Weber
- R. Gaske


- V. Golda
- B. Gibson
- C. Magill
- R. Metzger
- J. Niemira
- W. Nosek
- J. Panek
- C. Polisoto
- J. Reidy
- P. Rich


- J. Schroeder
- B. Schmidt
- J. Smith
- R. Steffan
- K. Tepas
- R. Terry
- G. Vaccaro
- O. Wood
- N. Zmuda
- M. Zwirecki

Buffalo Sabres Thunder Photo Gallery
Click on any image to see it larger and read the caption.